On Postal Ninja, you can track and trace your Aliexpress Standard Shipping package in no time. The tracker identifies the type and weight of the shipment, postal service, and its addressee.
What is Aliexpress Standard Shipping?
A while back, AliExpress had a pressing problem — sales were increasing, and postal delivery got no longer manageable. The merchants failed to process too many orders on their own. Many items hardly arrived on schedule. This lead to, you guessed it, numerous reviews on AliExpress saying that delivery was a long wait and packages got missing. Moreover, some sellers did not comply with delivery terms. As an example, they sent some orders via other shipping options, although buyers paid for the ones provided with a tracking number.
With the creation of the AliExpress Shipment Center, the online marketplace started to take control of the whole supply chain.
Aliexpress Standard Shipping is not a postal service in the traditional sense of the word. It does not ship or deliver anything. What it does is distributes the orders by forwarding them from the merchants to other postal/courier services. The services then send all the items to the destination country.
Most AliExpress merchants turn to this mode of delivery due to its convenience. After packing their products, sellers dispatch them right to the AliExpress Shipment Center.
How to track Aliexpress Standard Shipping?
Aliexpress Standard Shipping is trackable. Once you place an order on the site, you get a notification stating that you can track your package 5-7 days after the shipment.
The tracking number format depends on the chosen postal service. An ePacket tracking number looks like Lx000000000CN. Packages sent via Hong Kong Post have such tracking code: Rx000000000HK.
In this example, you see that the package arrived at AliExpress Shipment Center (Aliexpress-Cainiao) in Quanzhou, and then got forwarded to Shenzhen and Hong Kong via 4PX Express. The latter sent it to Singapore where it got picked up by Singapore Post. Only after that, the shipment found its way to Los Angeles, the US.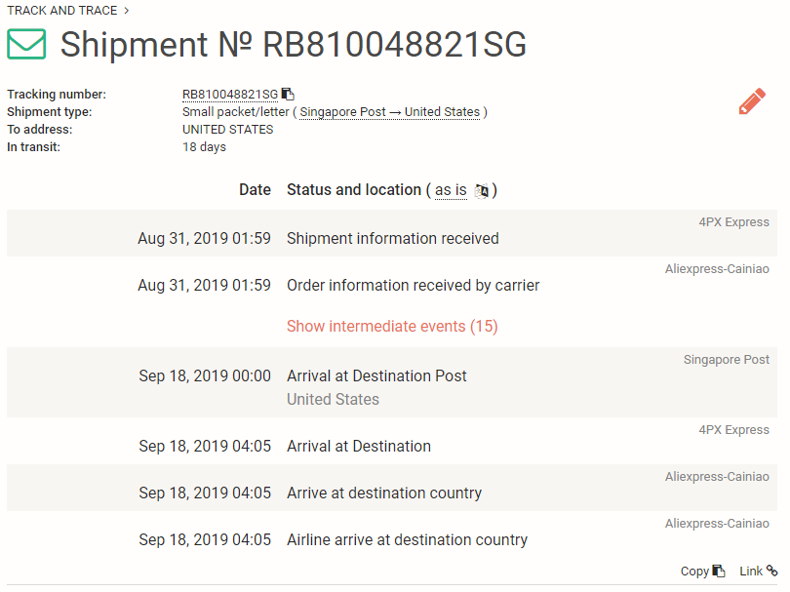 In another country, say, the USA, USPS is the one to deliver a package to the right place. As a general rule, national postal services deal with the packets once they arrive in the destination countries.
How long does Aliexpress Standard Shipping take?
Estimated delivery time for Aliexpress Standard Shipping varies by region. For instance, it takes 18 days to deliver a packet to the USA, 17 days to Canada, 12 days to the UK, and 25 days to India. On average, packages from China reach the destination within a month.
It is worth noting that delivery may take longer at the time of public holidays, Chinese New Year, and major sales like 11.11.
On the whole, it should not exceed 60 days. If you do not receive your purchase within this timeframe, you have the right to open a dispute and ask for a refund.
This way of delivery has become well-established and reliable over the years. Affordability, end-to-end tracking, and timely delivery are among its advantages.